Manufacture and sale of lighting engineering
We manufacture luxury period and atypical lighting fittings (chandeliers, lantern, lamps, sconces, wall lamps and candleholders – Venetian, from the time of Maria Teresa, Dutch, basket etc.). We sell restored original antique lighting fittings and restore lamps and metal objects from historical buildings. We hold the License of the Ministry of Culture of the Czech Republic.
Sale of antique lighting fittings
We sell restored lighting fittings of all types. Are you looking for a particular type of a period lighting? Contact us. We have found, restored lighting fittings in the appropriate architectural style and supplied them to many private and state buildings. For instance to the Nostic Palace in Prague, Petras Palace in Olomouc, to the castles of Lednice na Morave, Kunin, Luky nad Jihlavou, Nebilovy, Radun, Hradec nad Moravici, Kunstat, Rosice and many others.
Current offer: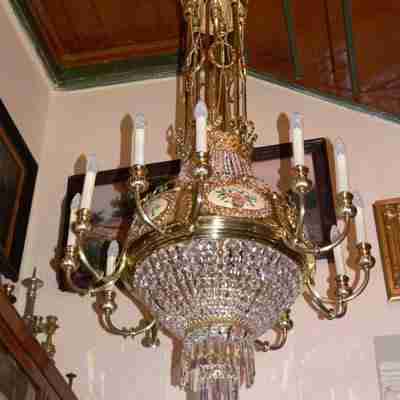 A unique brass twelve-lamp chandelier from the turn of the nineteenth and twentieth centuries with crystal trimmings and chains and hand-painted tumb sketches. Restored and electrified.
Height 165 cm
Width 85 cm



Brass ten-arm chandelier
from the nineteenth century, rich with motives of bunch of grapes, vine leaves and blossom.
Restored and electrified.
Height 100 cm
Width 80 cm